Chihiro Ogino is the protagonist of the animated movie "Spirited Away," directed by Hayao Miyazaki. The movie follows Chihiro's journey through the Spirit World, where she faces various challenges and grows as a character. In this blog, we will analyze Chihiro's character arc and how she evolves throughout the movie.
Initial State
At the beginning of the movie, Chihiro is portrayed as a typical ten-year-old girl who is whiny and hesitant. She is upset with her parents for moving to a new town and is visibly unhappy about the move. However, when she enters the Spirit World, Chihiro's life takes a drastic turn. She is forced to confront her fears and adapt to her new surroundings.
The Journey Begins
Chihiro's journey in the Spirit World starts when her parents turn into pigs after eating food meant for the spirits. She is left alone and scared, and she quickly realizes that she needs to take action to save herself and her parents. She seeks the help of Haku, a spirit, who advises her to work at a bathhouse to earn her freedom.
Chihiro's first job is to clean the bathhouse, and she is initially hesitant and unsure of herself. However, she soon realizes that she must work hard and be brave if she wants to save her parents and return to the human world. Her determination and work ethic earn her the respect of the spirits, and she gradually gains more confidence in herself.
The Transformation
As Chihiro spends more time in the Spirit World, she becomes more confident and mature. She learns to speak up for herself and stand up to those who mistreat her. She also gains a deeper understanding of the spirits and their world, which helps her navigate through the challenges she faces.
One of the most significant moments in Chihiro's transformation is when she helps a spirit named No-Face, who has become consumed by greed and is causing chaos in the bathhouse. Chihiro shows him kindness and compassion, which eventually leads to his transformation and redemption.
In conclusion, Chihiro's journey through the Spirit World is a coming-of-age story that highlights her growth as a character. She starts off as a timid and whiny girl, but through her experiences in the Spirit World, she becomes brave, confident, and compassionate. Chihiro's journey teaches us the importance of facing our fears, working hard, and treating others with kindness and respect. Overall, "Spirited Away" is a beautiful and touching movie that showcases the power of transformation and personal growth.
If you're a fan of Chihiro or, more broadly, "Spirited Away," then you might be interested in checking out some products at the "Studio Ghibli Merchandise Store." This store offers a wide range of items, including t-shirts, keychains, plush toys, and more, all featuring characters and designs from the beloved anime films produced by Studio Ghibli: http://ghibli-merch.shop/ 
In addition to the merchandise offered at the Studio Ghibli Merchandise Store, you can draw ideas from other anime shows with related themes. The following are some of the products you might want to think about:
1. Blue Lock T-Shirts – Blue Lock Bachira Meguru Classic T-Shirt
The Blue Lock Bachira Meguru Classic T-Shirt features the iconic character Bachira Meguru in bold colors graphics. The design captures his fierce determination and soccer skills, making it a must-have for any Blue Lock fan.
This timeless t-shirt delivers comfort and style thanks to its high-quality construction. A comfortable fit for all-day wear is guaranteed by the fabric's softness and breathability. This t-shirt goes great with any attire, whether you're going to a soccer game or just running errands around town.
At Blue Lock Merchandise Store, we're committed to offering the highest quality Blue Lock merchandise at affordable prices. We know how much our customers love the series, which is why we're dedicated to bringing you the best selection of t-shirts, hoodies, and accessories featuring your favorite characters: https://bluelock.store/ 
2. Mob Psycho 100 Hoodies – MobDonald's Pullover Hoodie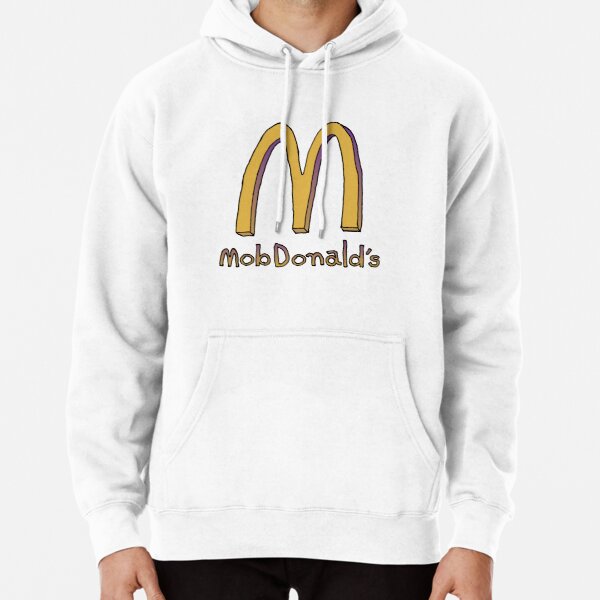 The Mob Psycho 100 merchandise line – the MobDonald's Pullover Hoodie comes in a clean white tone that's perfect for any occasion. But what sets it apart is the unique design that combines the world of Mob Psycho 100 with the iconic McDonald's brand.
The hoodie design with the main white tone and the iconic image of the McDonald brand are combined with the striking yellow Mob Psycho 100 anime series. With hood design with drawstring to help you keep warm on cold winter days. Besides, the design of the kangaroo bag allows you to store some small items when walking on the street or keep your own hands warm in the most comfortable way.
This hoodie is the ideal addition to any Mob Psycho 100 fan's wardrobe because it is made with high-quality fabrics and is both cozy and long-lasting.
Order yours today at the Mob Psycho 100 Merchandise Store, where you'll find a wide range of anime-inspired clothing and accessories, all designed with fans in mind: https://mobpsycho100.store/ 
3. Tokyo Revenger Shoes: High Top Converse Swastika Logo
Tokyo Revenger Shoes: High Top Converse Swastika Logo is a unique and edgy design for those who want to stand out from the crowd. The shoes feature a black base color with the iconic Swastika logo emblazoned on the sides. The high-top design ensures that your ankles are well supported while the canvas material provides both durability and comfort.
These shoes are perfect for those who want to channel their inner rebellion and make a bold statement. They are versatile enough to be worn with a variety of outfits, making them a great addition to any wardrobe. 
At The Best Tokyo Revengers Merch, we are proud to offer these unique and stylish shoes to our customers. Our online store is dedicated to providing high-quality merchandise inspired by the hit anime and manga series, Tokyo Revengers. We offer a wide range of products including clothing, accessories, and collectibles, all featuring your favorite characters and designs from the series: https://tokyorevengers.shop/ 
4. Haikyuu Pillows – Kenma Collage Throw Pillow
Haikyuu Pillows – Kenma Collage Throw Pillow is the perfect accessory for any fan of the popular anime and manga series Haikyuu!! Featuring Kenma Kozume, a talented setter from Nekoma High School, this collage throw pillow showcases various images of Kenma in different poses and outfits.
Made from high-quality materials, this pillow is soft and comfortable to use, making it perfect for snuggling up while watching your favorite Haikyuu!! episodes. Whether you're a fan of Nekoma High School or just love Kenma's quirky personality, this pillow is a must-have for any Haikyuu!! fan.
If you're interested in purchasing the Haikyuu Pillows – Kenma Collage Throw Pillow or any other official Haikyuu merchandise, be sure to check out the Official Haikyuu Merchandise website. This website offers a wide range of products, including apparel, accessories, and cosplay items, all featuring your favorite Haikyuu!! characters: https://haikyuu.shop/ 
5. Avatar The Last Airbender Mugs – Appa Classic Mug
The "Avatar The Last Airbender Mugs – Appa Classic Mug" – is a must-have for any fan of the iconic animated series! This classic mug features the beloved Appa, the show's iconic and endearing bison, making it the perfect addition to your collection.
The design is eye-catching and features Appa in his signature pose, surrounded by intricate details that are sure to impress even the most discerning fans. The mug is made from high-quality ceramic material and is suitable for both hot and cold beverages, making it a versatile addition to your kitchen.
This mug is an official merchandise item from the "Official Avatar The Last Airbender Merch Store" – your go-to destination for all things Avatar. As a fan of the series, you'll appreciate the attention to detail in every product, from the quality of the materials to the authenticity of the designs.
Whether you're enjoying a hot cup of tea or sipping on your morning coffee, this Appa Classic Mug will be a cherished companion. Get this recognizable mug by visiting the "Official Avatar The Last Airbender Apparel Shop" right away!: https://avatarthelastairbender.shop/ 
In recent years, we have seen a surge in products designed with inspiration from popular anime series. Among the top contenders are Blue Lock, Mob Psycho 100, Tokyo Revenger, Haikyuu, and Avatar The Last Airbender. These anime have captured the hearts of fans all over the world, and it's no surprise that their unique styles and themes have found their way into fashion, accessories, and other merchandise.
In conclusion, these anime series have spawned some incredible goods that let fans flaunt their devotion to their favorite programming. There is something for everyone, whether it be a football jersey, a backpack, a sweater, or a volleyball set.